Last month I visited Miami to attend the Aesthetics Symposium Seminar.  There were lots of vendors expressing their devotion to their particular product or service.  We had great speakers by doctors and nurses whom been injecting for over 20 years.  What I noticed throughout the speakers and vendors was the common theme of products and services that help assist in neocollagenesis.  Neocollagenesis is the making of new collagen. We lose collagen as we age.  By the time we reach our 30's, we stop producing collagen, making our skin wrinkle, drooping and saggy.  Many products help with the texture and building of collagen.  Our favorite is Retin A or Tretinoin.  This product helps with cellular turnover and helps aid in the production of Type 1 and 3 collagen.   We sell this prescription strength product at our clinic.
What about treatments that help with neocollagenis?  Then only way to begin the neocollagenis process is to damage our current skin first.  One of our favorite methods for this is Ultherapy.  The Ultherapy difference is the use of ultrasound that works deep below the skin's surface, reviving and creating new collagen.  No surgery is required and no downtime for this procedure.  By causing controlled damage, our fibroblasts will produce more collagen than before, which will improve lines and wrinkles.  Initial results are visible immediately after treatment, but the real results appear over 2-3 months as new collagen builds, gradually lifting, tightening and improving treated areas. 
So, what is Ultherapy ®?
Ultherapy® is an FDA-cleared, non-invasive procedure for skin tightening to lift the eyebrow, neck, jawline, and décolletage areas. Ultherapy is the only cosmetic procedure to use ultrasound imaging, which allows practitioners to see the layers of tissue targeted during the treatment to ensure the energy is deposited to where it will be most beneficial. This focused ultrasound energy boosts collagen production, a process also known as neocollagenesis, and actually triggers your body's natural healing response, promoting the regenerative process that produces new collagen. The procedure is unlike lasers, radio frequency, surgery, and other technologies since it bypasses the surface of the skin to deliver the right amount of ultrasound energy at the right depths and the right temperature. Ultherapy can be used to reduce the appearance of wrinkles on the chest, to tighten the jowls, and even to treat fine lines around the eyes, with almost no downtime.
How do I know I am a candidate for Ultherapy®?
A good Ultherapy candidate has mild to moderate skin laxity where the skin begins to feel and look less firm. Examples include a lowered eyebrow line, loose skin on the neck, sagging under the chin, and lines or wrinkles on the chest. Of course, the best way to find out if you're an Ultherapy candidate is to consult with our practitioners, so it is important to schedule a free consultation appointment.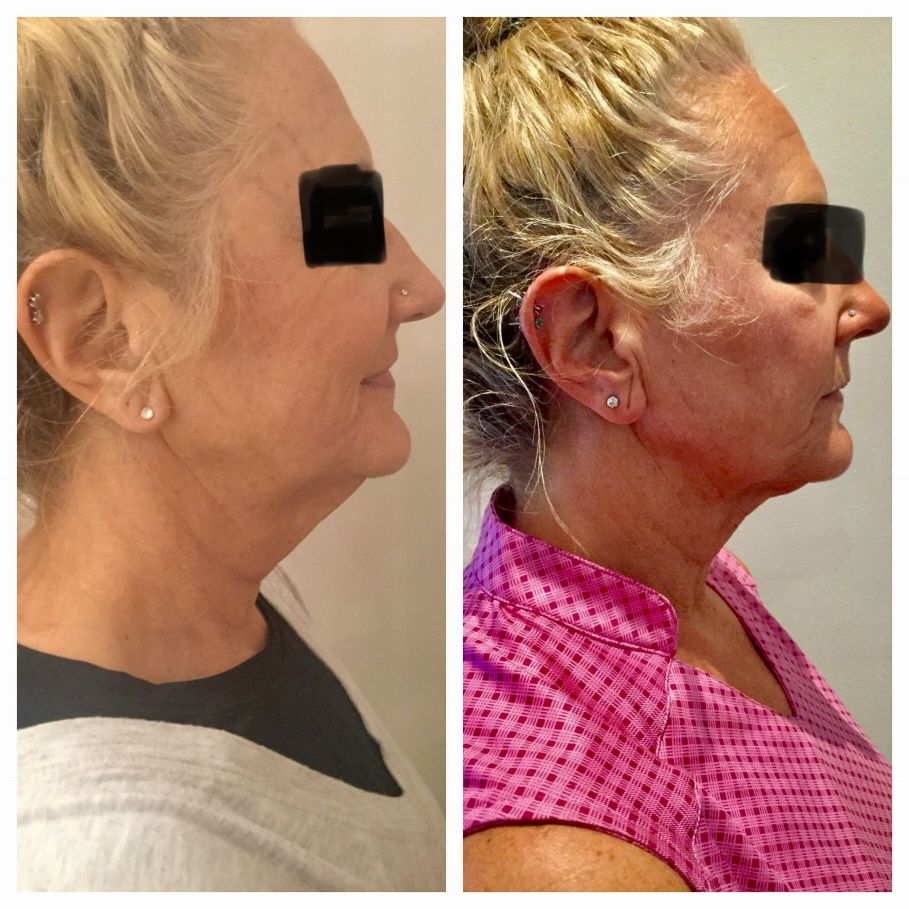 Here is an actual Aesthetics and Wellness of Durango patient.  She also had Kybella fat dissolving injections and PDO Threads to achieve her desired results.
How long does this procedure last?
The length of the treatment will depend on the area being treated and your individual treatment plan. A face and neck procedure typically takes 90 minutes, while a chest treatment takes approximately 30 minutes.
Do I need more than one treatments?
Most patients only need one treatment. However, based on the degree of skin laxity, the biological response to ultrasound energy and the individual's collagen-building process, some patients benefit from additional treatments. Because skin continues to age, future touch-up treatments can help patients keep pace with the body's natural aging process.
When can I see the results?
After your Ultherapy treatment, you may see some initial effect, but the ultimate results will take place over 2-3 months, as your body naturally regenerates collagen. Since the procedure stimulates your own collagen production, how long the results last really depends on you. The treatment produces new collagen on the inside, but your natural aging process will dictate how long that translates into visible results on the outside.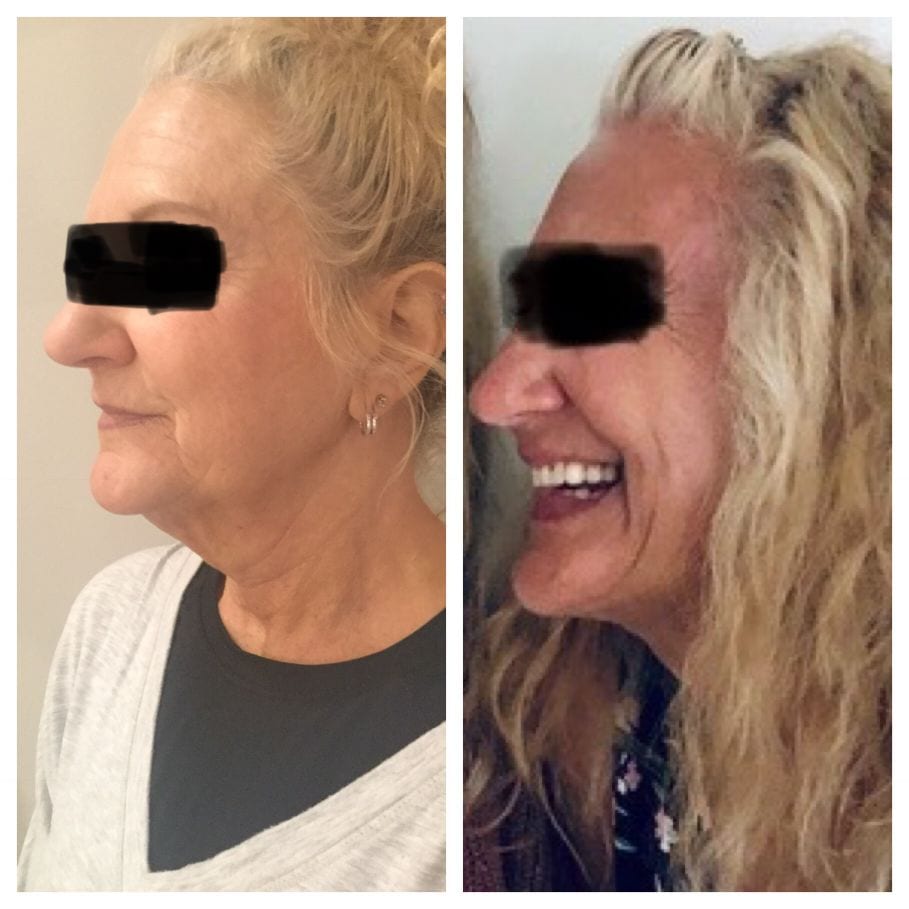 Patient smiling and very happy with results.
Do I need to take time off after the procedure?
With Ultherapy, there is no downtime. After your procedure, you can resume your normal activities immediately, without having to follow any special post-treatment guidelines.
What are some common side effects?
The skin might appear flushed at first, but the redness should disappear within a few hours. Some patients experience slight swelling, tingling or tenderness to the touch, but these are temporary in nature. Other, less common post-procedural effects may include temporary bruising or numbness on small areas of skin. As with any medical procedure, there is the possibility for other rare effects, which your practitioner will review with you.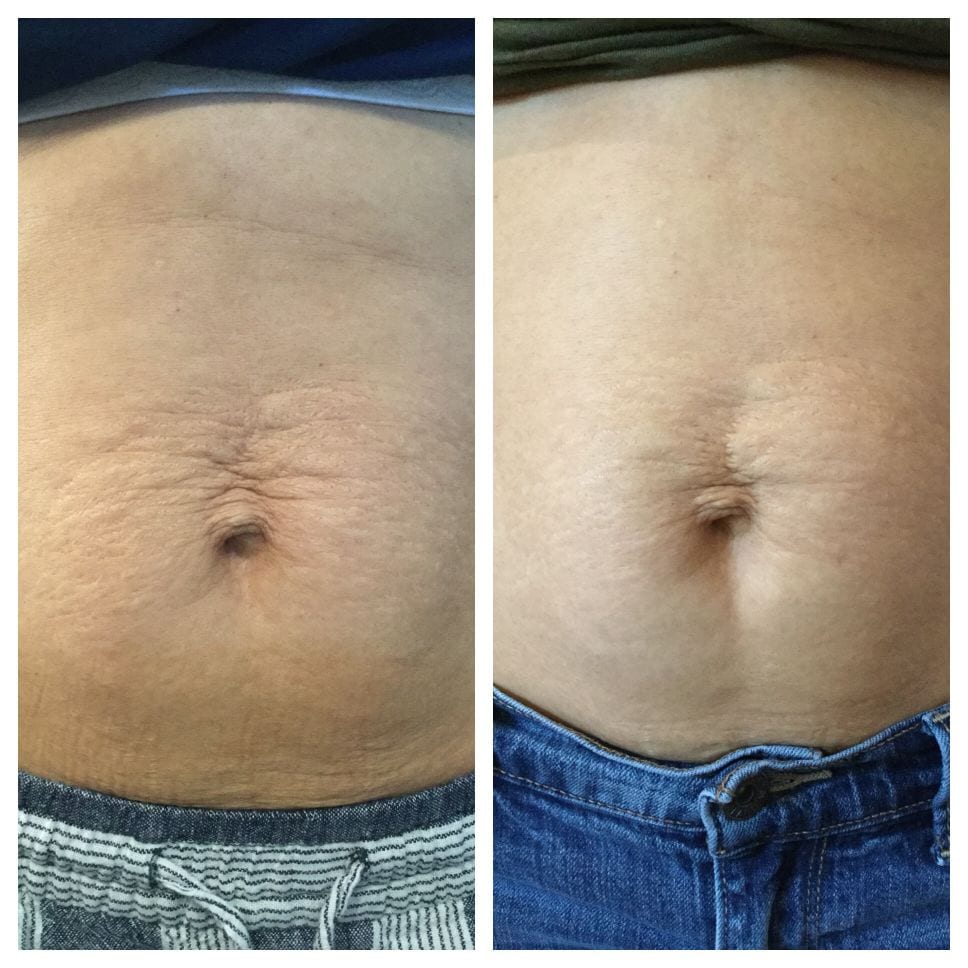 Another patient who used Ultherapy on her stomach to tighten the skin